Cleaning and flushing of pipelines
we secure the municipal water cycle
Welcome to comprex® Municipal
Municipal networks are your core business. Ours too.
For decades, we have been successfully working for numerous municipal supply and disposal companies throughout Germany and beyond. Our goal is to clean drinking water, raw water and wastewater pressure lines efficiently and sustainably, as well as to provide competent service around the network on a regular basis. Good planning is the be-all and end-all. That's why we get a precise picture of the area to be flushed in advance – directly on site or using Planwerk.
Together with you, we determine the individual flushing routes with feed-in and feed-out points. Then we provide a suitable team from our qualified technicians who not only make optimum use of our comprex® and extraQt® processes, but also bring with them a high degree of experience, know-how and professionalism. On time at the agreed date we are at your place, so that it can start.
Our service offerings at a glance
We have the right solution for you
Our comprex® cleaning is suitable for all municipal areas.
For drinking water distribution, we offer two power levels of flushing and cleaning. With comprex® netcare, condition-based gate valve maintenance is available to you. In addition, with extraQt® and extraQt® netcare, we have the optimal solutions for maintenance flushing and condition assessment of your drinking water distribution.
comprex®
intensive cleaning
comprex® netcare
Maintenance
extraQt® netcare
Condition assessment




Why should you choose us?
They bear a great
responsibility

. We take some of that off your hands and ensure the

quality

and

efficiency of

municipal piping systems.
Our processes for municipal pipe cleaning are versatile:
We are specialized in these cleaning applications
We operate throughout the municipal water cycle and specialize in versatile purification applications. Find out here how our processes are used successfully and efficiently from drinking water production to wastewater treatment.
Raw water is the source of our drinking water. From wells it reaches the waterworks with the use of pumps via raw water pipes for treatment. We restore the capacity of your raw water and well lines by efficiently removing sediment.
The highest hygienic requirements apply from the waterworks to the end consumer. Our goal is to ensure that you can continue to supply consumers with hygienically safe drinking water from clean pipelines.
In areas with flat topography, pressure pipes transport wastewater from the pumping station to the treatment plant. We ensure that you restore and maintain the full capacity and efficiency of your wastewater pressure lines.
Deposit formation in the treatment of wastewater significantly affects the function and capacity of pipelines at wastewater treatment plants. Our process effectively cleans the versatile piping systems and effectively removes existing deposits.
Our operations in the municipal sector
Our services in facts and figures
KM Cleaned lines per year
Average operations per year
We regularly report on new developments and innovations.
Find out more about our successful comprex® applications.
Here you can see more reference projects about "Municipal - ExtraQt®".
Professional articles and publications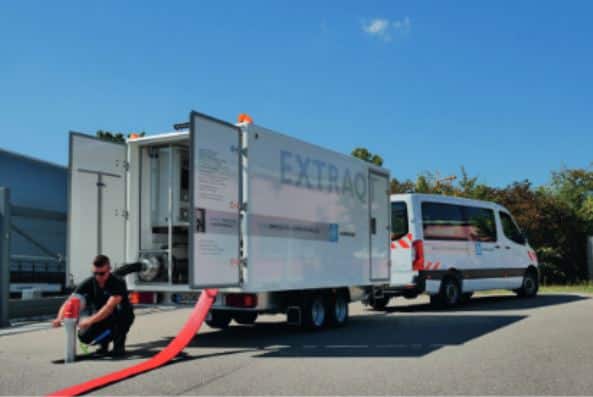 Wassermeister | 2/2022 | Condition assessment during flushing ...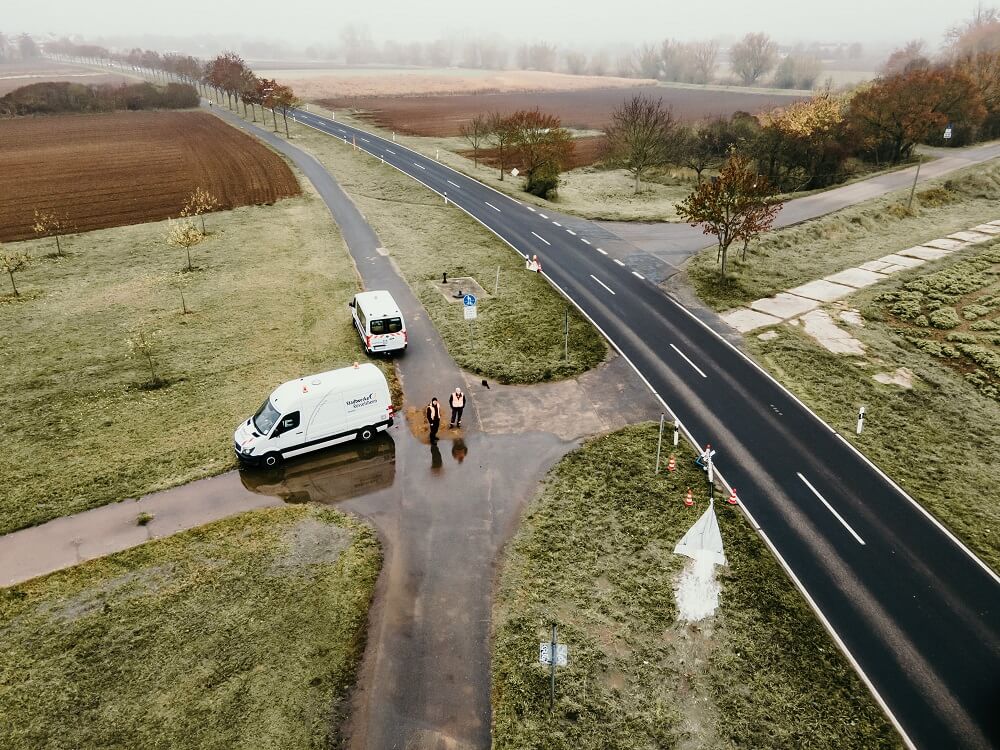 Here you can see more technical articles on ...
Developed, patented and versatile in use
Our offers for municipal pipe cleaning
Whether drinking water, raw water or wastewater pressure lines – we ensure clean lines in the municipal pipeline network. We not only solve deposits, but also offer other services such as the inspection and upgrading of gate valves and hydrants, as well as the preparation of a technical condition assessment of your pipes. Depending on your task, we will be happy to advise you on the optimal use of our solutions.
The advantages at a glance
comprex® is a patented impulse rinsing process developed by us and proven in practice and works entirely without chemicals, instead on a physical basis – using only air and water. comprex® nectcare is condition-based gate valve maintenance for water distribution and an optional additional service to our municipal pipe cleaning.
In addition to our comprex® cleaning, we offer efficient net maintenance in one service in combination.
In lighter cases of pipe network maintenance or as a maintenance measure of thoroughly cleaned networks, our water suction flushing extraQt® is the appropriate solution. In addition, we offer a condition-based network evaluation with extraQt® netcare, which allows us to give you an objective overview of the condition of your drinking water networks.
In addition to our comprex® cleaning, we offer efficient net maintenance in one service in combination.
comprex® cleaning offers at a glance
Learn more about the cleaning processes
comprex®
intensive cleaning
comprex® netcare
Maintenance
extraQt® netcare
Condition assessment

Both methods in comparison
Our services in facts and figures
KM Cleaned lines per year
km of cleaned pipes per year
A clean result in just a few steps
We have been in the municipal pipe cleaning business for over 25 years and specialize in versatile applications. Find out here how our cleaning processes can successfully and efficiently clean the many municipal systems.
Inform consumers in a timely and simple manner using our templates:
Do you want to inform your consumers about the importance of cleaning municipal networks? We have prepared a web page with customer information.
Feel free to share this link and the information.
Every cleaning measure requires careful pre-planning. With our needs analysis, we have tailored various offerings to keep your municipal networks running efficiently and safely. We work with you to create an optimal application plan and decide together which of our processes, from comprex® to extraQt®, are best suited for you. We also offer additional services ranging from the inspection of network gate valves to the technical condition survey of the pipe network.
Defining the flushing and cleaning sections
We carefully define with you the sections to be cleaned and determine the optimal feed and discharge points. With the schedule worked out in this way, nothing stands in the way of an optimal execution of the rinsing and cleaning measure.
Execution of our cleaning service
For the cleaning offers we use our self-sufficient extraQt® or comprex® trailers. This gives us the flexibility to adapt to local conditions. Depending on the pipeline dimension of the section to be cleaned, we work with several synchronized trailers if necessary. We also offer our comprex® netcare for the effective maintenance of gate valves in drinking water distribution.
Rinsing / cleaning process
With comprex® , compressed air is introduced into the pipeline, which expands inside to generate impulsive blocks of water and air. These cleaning-effective packages flow through the pipeline at velocities of up to 20 m/s.
With extraQt® , our suction pump increases the flow rate, effectively removing light deposits.
With our flushing and cleaning processes, we specifically generate high shear and drag forces on the inner surfaces of the pipelines. In this way, biofilms and deposits can be mobilized and reliably discharged. Our processes have a high cost-benefit factor and work without chemicals with low water consumption.
Appendix of the turbidity monitoring we can document the condition of the pipes as well as the cleaning effect. At extraQt® we even record the turbidity online with our measurement technology and evaluate the data accordingly.
After completion of the cleaning or flushing measure, we make the pipeline ready for regular operation again. In the case of comprex® , the first step is deaeration. Finally, all fittings are returned to their intended position.
We are flexible, personal and discreet for you in use. With our many years of experience we can
pre-plan complex cleaning tasks thanks to the sophisticated deployment technology and process them on site in a targeted manner.
Customized application technology
We operate across a wide range of industries and specialize in versatile cleaning applications. Find out here how our Customized Application Technology can successfully and efficiently clean the myriad of systems.
Municipal water networks:
– Water extraction
– Water distribution
– Waste water disposal
– Waste water treatment
Municipal water networks:
– Water distribution
Municipal water networks:
– Water distribution
The comprex® process mobilizes and removes deposits and biofilms from your system. Depending on the application, our versatile additional equipment is used.
The before and after effect:
Whether it's ochre deposits, lime or manganese – comprex® brings to light a lot of things you wouldn't otherwise see. Here we show you the unknown that can cause so many problems: Deposits in all imaginable forms.
Successfully carried out flushing and cleaning measures
Klicken Sie hier, um mehr über die Einsatzstandorte zu erfahren
km of cleaned pipes per year