Legionella, pseudomonads or turbidity
With comprex® deposits and biofilms in your drinking water system.
Mechanical cleaning process
Disinfection does not replace cleaning of the drinking water system.
You have problems with legionella or pseudomonads in your drinking water installation?
Do you have cloudy or reddish-brown water coming out of your faucet?
With our comprex® mechanical impulse rinsing process, deposits and biofilms are dissolved and reliably removed.
Clean with comprex®
we your entire drinking water plant
gently and reliably.
Typical areas of application for comprex®
Cleaning of drinking water plants
Kitas, Schools & Universities
Senior centers & nursing homes
Residential, Office & Commercial
The comprex® process mobilizes and removes deposits as well as biofilms from your drinking water installation. The combination of air and water cleans effectively and gently at the same time.
Why should you choose us?
Do you need expert assistance in cleaning your drinking water system to restore
hygiene

?
The solution for contamination and impurities
The fact that comprex® is the optimal solution for a wide variety of contaminations and impurities in drinking water installations is confirmed time and again by our customers in practice.
Read our FAQs to find out how comprex® can help in the case of legionella, pseudomonads and turbidity problems in existing systems.
We also answer how the pulse flushing process can assist in cleaning before commissioning new drinking water systems.
Legionella bacteria are ubiquitous in freshwater and can multiply in water-bearing systems. Elevated concentrations may occur if there are defects in drinking water installations. Then quick action is required. This is because legionella poses a serious health risk. The rod-shaped bacteria live in water and can cause the infectious disease legionellosis through droplet transmission.
Microbiological contamination can occur in drinking water pipes. The causes are structural, operational or procedural deficiencies. Pseudomonads, especially Pseudomonas aeruginosa are rod-shaped bacteria. They can be dangerous for people with weakened immune systems. They are a dreaded hospital germ with antibiotic resistance. Therefore, quick action is required in the event of contamination.
The cause of turbidity in drinking water installations is usually corrosion, especially in old steel pipes. This is usually noticeable by a reddish-brown discoloration of the drinking water. Corrosion products can clog filters, strainers, aerators or angle valves. In addition, the cross-section of old steel circulation pipes is decreasing. This reduces the flow rate.
Before commissioning the drinking water system, the tightness and hygienic condition must be ensured. With COMPREX® we can thoroughly clean your drinking water system before putting it into operation.
Competence center for your drinking water installation
The focus and heart of our business is our patented COMPREX® impulse rinsing process, which we are constantly redefining and expanding at various performance levels. This allows us to adapt it perfectly to the individual, changing tasks of our customers.
We regularly report on new developments and innovations.
Find out more about our successful comprex® applications.
The cleaning of the drinking water installation after…
Professional articles and publications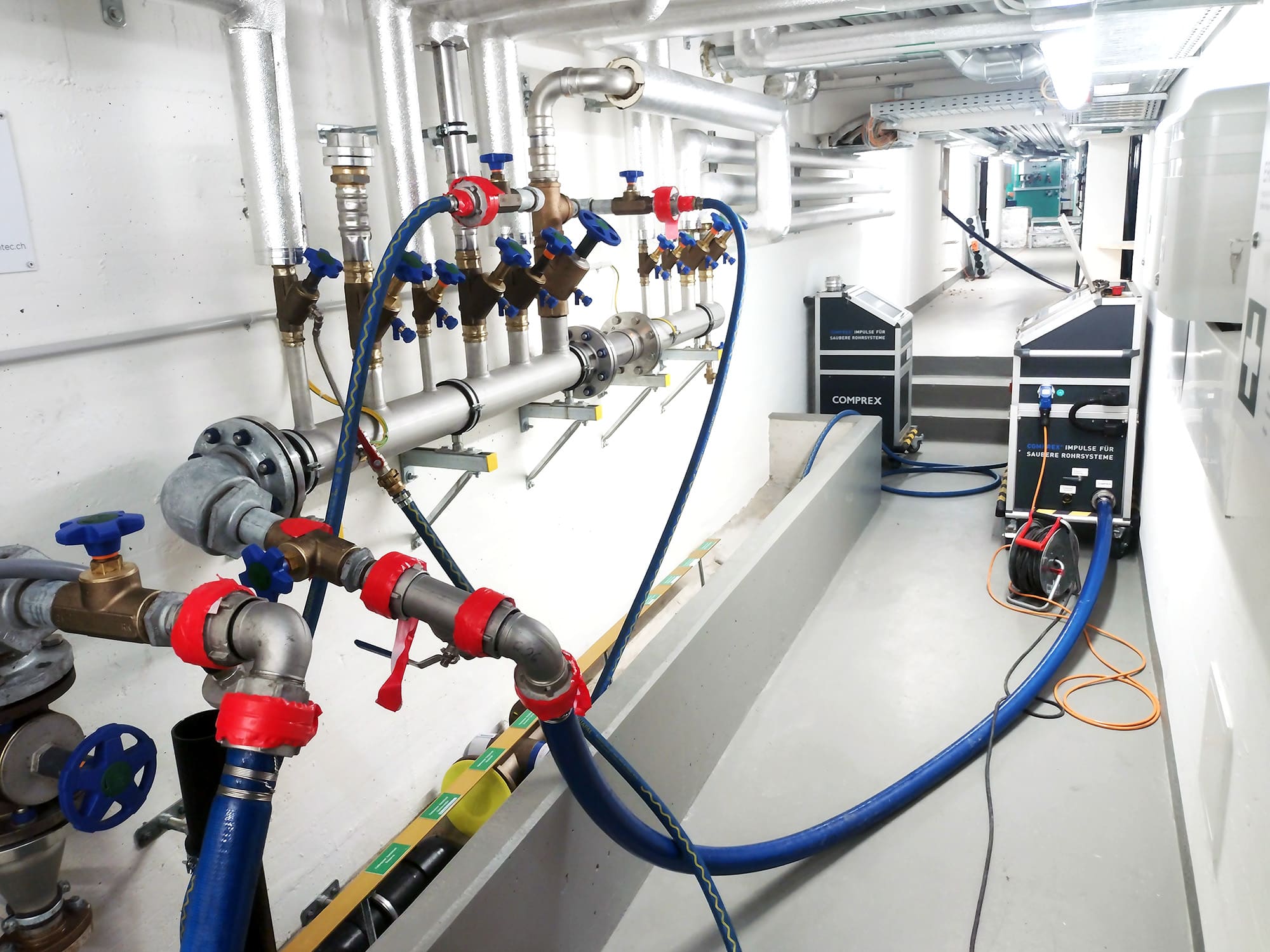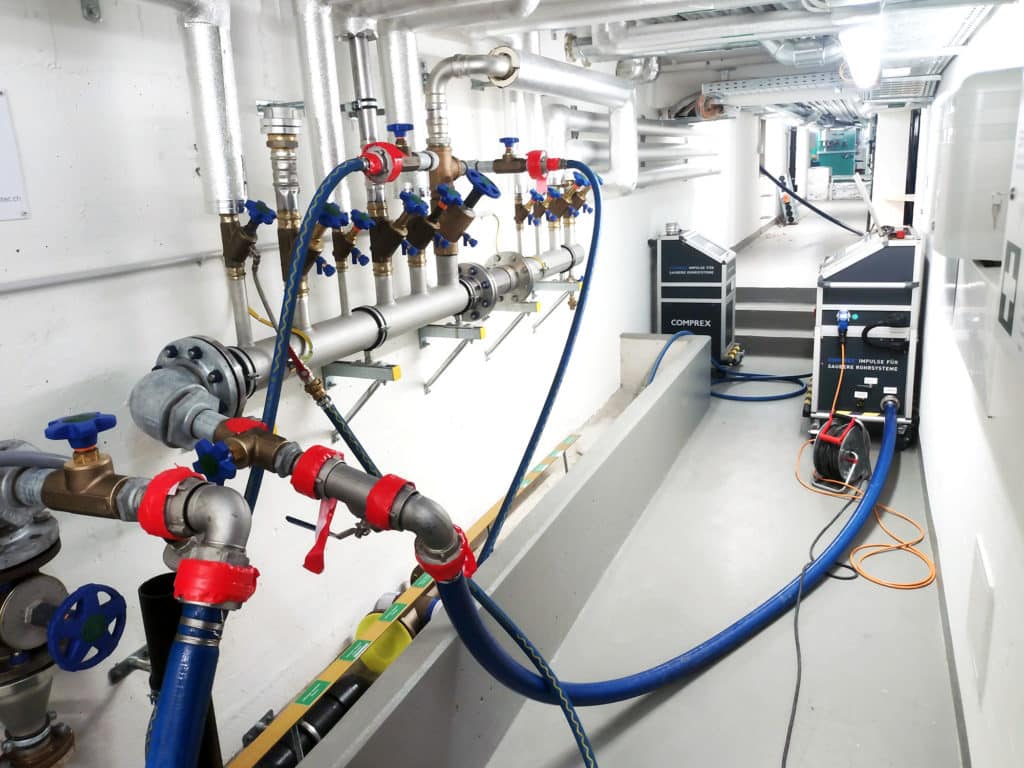 Professional commissioning of a drinking water installation after…
Here you can see more technical articles about…
Comprex® cleaning process
The advantages at a glance
comprex® for cleaning drinking water systems
As experts in the cleaning of drinking water installations, we strictly adhere to the requirements of the German Drinking Water Ordinance and the specifications of the German Gas and Water Association.
As an industrial partner, we have participated in the two BMBF joint projects "Biofilms in Drinking Water Installations" and "Biofilm Management", among others.
Read the results here.
The effectiveness of our COMPREX® process has been tested and confirmed by the Institute for Hygiene and Public Health of the University of Bonn. Read the expert opinions here.
What information you can have ready with your request

What kind of building
Background information, facts and figures about the building help us to understand the situation and provide you with targeted advice.

Number of taps
The number of taps gives us an initial estimate of the time required for comprex® cleaning of the drinking water system.

Pipeline material
The material of the drinking water system also plays an important role in the further procedure.

Place of sampling
This information helps to further isolate the cause of the problem and to initiate targeted measures.
A clean result in just a few steps
Based on your inquiry, our hygiene experts first discuss the individual task with you and clarify the general conditions. In preparation for the site visit, we ask for building plans in preparation for the site visit.
On-site meeting and preliminary planning
The basis for a successful cleaning measure is sound preliminary planning. On site, we identify necessary conversion measures and discuss the implementation of the project with you.
Depending on your needs, we schedule cleaning on weekdays, weekends, during the day or at night. Based on the preliminary planning, our experts work out the detailed schedule and prepare an offer and for the cleaning measures.
We come to you on schedule with our comprex® technology. We prepare your drinking water installation for cleaning and connect our technology. Based on the schedule, we clean your drinking water installation section by section – one after the other cold water, hot water as well as circulation water pipes.
Removal of microbial contamination
The comprex® unit generates controlled pulses with multi-filtered compressed air. Fed into the cleaning section, these pulses generate highly accelerated air and water blocks and enormous turbulence with strong shear and drag forces. These mobilize biofilms and deposits and reliably remove them.
With comprex® , we nevertheless clean gently and always remain below the permissible system pressure.
As soon as no more turbidity is visible at the sampling points, we deaerate the cleaned strand. The cleaning of this section is completed.
At the customer's request, we can also carry out chemical disinfection in accordance with DVGW W 557 after thorough cleaning of the pipeline. We use hydrogen peroxide or chlorine dioxide for this purpose.
After completion of the cleaning and, if necessary, disinfection measures, sampling must be carried out. Care must be taken to ensure that the water does not stagnate in the pipeline. As soon as the result of the sampling is available and faultless, the drinking water installation can be put back into operation.
We are flexible, personal and discreet for you in use. With our many years of experience we can
pre-plan complex cleaning tasks thanks to the sophisticated comprex® technology and process them on site in a targeted manner.
Customized application technology
We operate across a wide range of industries and specialize in versatile cleaning applications. Find out here how our customized application technology can successfully and efficiently clean the many systems.
– Drinking water installations
– Municipal water networks
– Industrial systems
– Drinking water installations
MDM mobile disinfection module
– Drinking water installations
Successfully performed comprex® cleanings
Click here to learn more about the cleanings