With comprex® we efficiently remove deposits in pipes throughout the wastewater treatment process.
Wastewater treatment plants require properly functioning pipelines. After all, these are the connecting lifelines between the various treatment steps in the process for treating wastewater and the sludge produced in the process.
We help maintain or restore operational safety for your wastewater treatment process.
comprex® enables simple and risk-free, condition-based maintenance – and maintenance produces availability.
Deposits constrict the cross-section of your pipes and impair the flow of your wastewater pressure lines. With comprex® we provide a remedy.
In areas with a lack of slope, wastewater pressure pipes transport the wastewater from the pumping station to the treatment plant. In general, the tendency is to use wastewater pressure pipes – for example, because of their small nominal sizes. We ensure that you maintain or regain the full function and efficiency of your wastewater pressure lines.


We have the right solution
We clean your wastewater treatment
Every major wastewater treatment plant has hundreds of meters of piping to transport water and sludge through the various treatment stages.
All wastewater treatment processes produce large quantities of sewage sludge. Particularly in the primary sludge pipelines, but also in surplus sludge pipelines, as well as special pipe sections such as grease pipelines, thick sludge pipelines and centrate pipelines, the formation of deposits, some of which adhere very firmly, occurs again and again during operation in many places.
Wastewater treatment creates deposits that narrow the cross-section, build up pressure, and reduce the flow rate of the pumps. If no action is taken, complete clogging of the pipe and failure of aggregates or cleaning stages are the result, which requires cleaning of the pipe sections.
Pipes at wastewater treatment plants can usually be cleaned quickly and easily with comprex®. The necessary connections are usually already in place and impulses of air and water (service water) can be used to effectively remove deposits.
For particularly stubborn deposits or hard, crystalline consistency, adding rock salt to your pulse flush is another way to restore your plumbing.
comprex® represents an effective contribution to condition-based maintenance. Early action allows a trouble-free cleaning process and enables an optimal cleaning result. Do not let it come to a complete pipe blockage with the consequence of an average and interruption of operation. Contact us in time!
We have years of experience in the municipal sector
Comprex® in wastewater treatment - this is how it works!
comprex® maintains or restores performance – without the risk of sticking as with the use of pigs.
Pipes at wastewater treatment plants can usually be cleaned quickly and easily with comprex®. Storz-C flush connections are usually already in place at the required locations or nearby. In addition to our comprex® air, only your process water is used as the working medium. The discharge is easily done into manholes, basins or tanks.
As a rule, comprex® cleaning does not require any conversions or decommissioning. The pumping times and feed rates of the various clarification processes are taken into account.
To ensure cleaning success, cleaning should be performed regularly. It has been shown that deposits not only increase over time, but also solidify and then become much more difficult to remove.
You would like to get more information about our comprex® process?
Why should you choose our process?
With our comprex® process, we offer an
effective, sustainable

and

resource-saving

cleaning alternative.
comprex® cleaning in wastewater treatment plants
Comprex® in digester gas lines - a field report
Stadtentwässerung Langenhagen operates two digesters for anaerobic sludge treatment at its wastewater treatment plant. The resulting digester gas is fed to a gas storage tank via a gas pipeline and then utilized in a CHP unit. If, in exceptional cases, the gas cannot be utilized in this way, it is burned with an emergency flare to prevent climate-damaging methane from escaping into the atmosphere.
The gas line is about 30 years old, enough time to become clogged with solid particles present in the gas. The resulting deposits meant that the condensate produced in the gas line could not drain off reliably. This resulted in strong pressure fluctuations in the gas pipeline. When gas production was high, gas flaring even occurred at times, although the gas storage facility still had free capacity.
Customer quote on cleaning with comprex®:
"Hammann was contracted to clean the stainless steel gas line using their Comprex process. Success was already evident when the cleaning was carried out, as the escaping rinse water was heavily contaminated.
After completion of the cleaning and recommissioning, the pressure fluctuations mentioned did not reoccur. Admittedly, it was not easy to create the necessary inlet and outlet to the gas pipeline. It is also problematic to take a gas pipeline, for which there is no redundancy, out of service for a longer period of time. Nevertheless, the effort was worth it, as the cleaning had the desired effect." (Mr. Kormann, at that time employee at the city of Langenhagen, Eigenbetrieb Stadtentwässerung).
We regularly report on new developments and innovations.
Find out more about our successful comprex® applications.
Here you can see further reference projects on ...
Professional articles and publications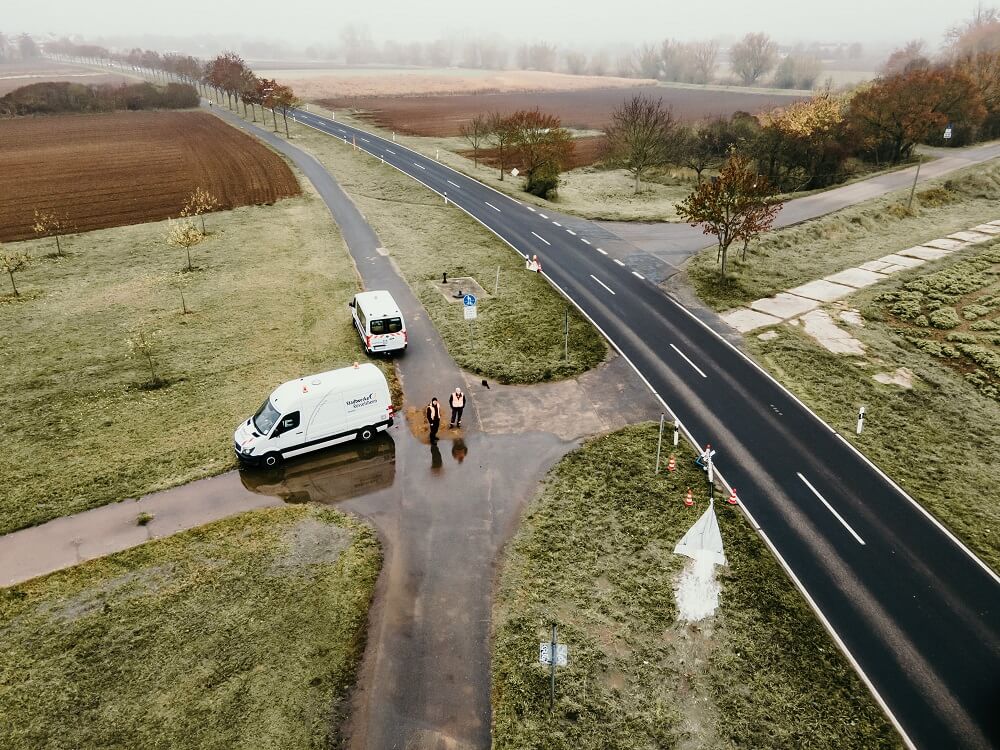 Here you can see more technical articles on ...